Knapman Zoned Compression Shorts 45%


The first compression shorts in the world with a scientifically proven effect
Extra support
The targeted compression zones give extra stability and support to the muscles and joints.
More stability
Optimal stability to the muscles due to the high compression value, with as a result less muscle damage.
Unique compressie value
Knapman compression clothing contains a unique compression value up to 45%. There are no comparable compression shorts available.
Targeted compression
The patented, targeted compression zones follow the anatomy of the body and the muscles, resulting in optimal support to the correct areas.
Body encircled compression
Body Encircled Compression to the whole body (4-way stretch, shape retention fabric).
PRODUCT FEATURES


Knapman Compression Clothing
Invisible Under Garmens
Invisible under garments due to total Seamless fabric.
MaxClima™ CoolTouch
Pleasant, cool feeling due to modern CoolTouch-application. Even after long-term usage.
Exceptional ventilation
Exceptional ventilation thanks to advanced MaxClima™ fabric.
Shape retention
Advanced elastic materials with optimal shape retention, without squeezing.
MaxClima™ SoftFeel
SoftFeel-application; Exceptional soft material, feels like a 'second skin'.
Quick drying
Quick drying fabric thanks to special form of the yarn.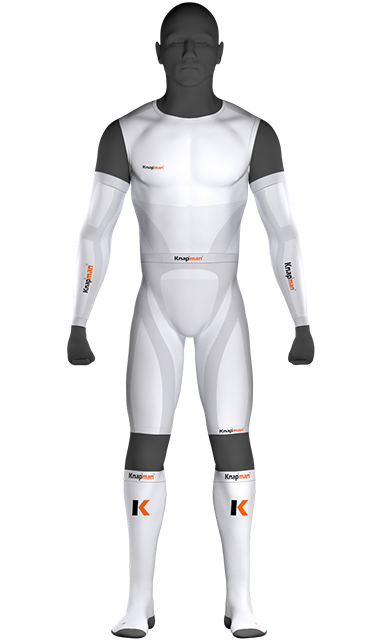 Pilling Resistant
Extra resistance to pilling.
Sun Protection
Special treatment of the fabric to protect the skin from UV-A and UV-B radiation.

30% Silver Ions
Built-in silver ions with antibacterial effects against unwanted odours.
Moisture Regulating
Special designed to regulate moisture for comfortable and dry feeling.
Extra Comfort
Exceptional comfort of wear. SoftFeel-application.
Perfect Fit
Perfect Fit thanks to the special characteristisc of MaxClima™ fabric and the Body Encircled, Targeted Compression.


CUSTOMER SERVICE: +31 (0)228-593359
Monday to Friday from 09:00 to 17:00